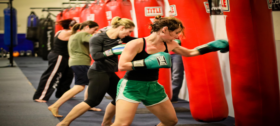 Higher Intensity Fitness Class Means Faster Results
Burlington Krav Maga kickboxing fitness class is the fastest way to achieve your fitness goals. Our high intensity and ever changing routines are the exact challenges your body needs to change.
You will hit the heavy bag with lighting fast punches, kick with laser guided accuracy, and deliver wicked elbows and knees. Between rounds on the heavy bag you will work with medicine balls, kettle bells, resistance bands, jump ropes, body weight exercises, and a few other of our tricks that will get you toned and slimmed down.
No matter what your fitness level is, we can help you reach your goals. We allow you to work at your own pace, and give you the motivation it takes to push your body into the transforming state. Our members love our fun, challenging, and encouraging environment.
After every fitness class you will be one step closer to your fitness goals. Put us to the test and join us for a free fitness classes. There is no obligations or hidden gotchas.
10 Reasons to do Heavy Bag Kickboxing Fitness Class
Best way to relieve stress
You really enjoying hitting things.. but not in the mood to get hit back.
You get to fight like a pro fighter...for 60 minutes.
It's like Rocky...without the slabs of beef.
Because treadmills are for hamsters.
It's mentally and physically challenging.
Because you can!
Because it will make you smile.
Because you will ROCK your bathing suit this summer
Because it's tons of FUN!
More than a Fitness Class in Burlington
In addition to getting you in shape fast, we teach you techniques that can be used to help protect yourself. You will be able to walk with a little more self confidence and a little less stress knowing you are better prepared to defend yourself. The kickboxing fitness class will get your body in the physical condition to defend yourself and will give you a few basic tools. If you are interested in taking your self defense skills to the next level, check out our Krav Maga Self Defense Class.
Proven results with Fitness Class in Burlington
Our member and friend Adam has lost 23 pounds in 2 months and is still dropping weight. Adam has served our country for many years both in the military and in law enforcement. He describes our programs as "practical, useful, and realistic". Read more about Adam's success in fitness.
Our member and friend Jimmie has lost 15 pounds in the first two months. Read more about Jimmie's weight loss with kickboxing fitness.
Start Transforming Your Body Today
We are so confident that we have the most intense fitness class in Burlington, Mebane, Graham, Whitsett, Gibsonville, and Elon, we will give you a free fitness classes. There is no obligation afterwords and you won't have to listen to a cheesy sales pitch. In the end if you don't think we are the best place for you to get in the best shape of your life, there will be no hard feelings. You have nothing to loose. Sign up early since we can only accept a limited number of new students in each class.
Get Started Today
$0
1 CLASS TRIAL MEMBERSHIP
LIMITED TIME OFFER NO OBLIGATIONS
TRY US OUT FOR FREE RESERVE YOUR SPOT
START TRIAL