Shahane Mack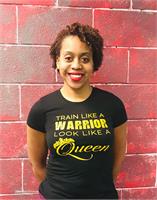 Fitness Entrepreneur/ Personal Trainer/ Lifestyle Coach/ Fitness Motivational Speaker/Fitness Model
Shahane has been in the fitness industry for close to 10 years now. Shahane Has helped
hundreds of women in Weight loss, mental ,spiritual and physical Well Being.
She is a certified/ licensed
Personal Trainer , Fitness Nutritionist, Zumba instructor, strength and conditioning instructor, Spin instructor, Booty Sculpt, and overall group X instructor.
In her classes she focus more on keeping you motivated start to finish and to come back again to hit the your ultimate goal.
Shahane's Famous quote after every class is "You are your own obstacle Find your Detour and take
it! Remember you were born Tenacious now be aTenacious Woman. "
Shaháne Mack
"Fitness is a Lifestyle"
Get Started Today
$0
1 CLASS TRIAL MEMBERSHIP
LIMITED TIME OFFER NO OBLIGATIONS
TRY US OUT FOR FREE RESERVE YOUR SPOT
START TRIAL